As teachers, we are always looking for ways to make our teaching easier. We want to find activities that engage our students while they are having fun learning. VocabularySpellingCity does this. Plus, it's free to create an account. Once you have an account, you can save spelling lists for your students to use.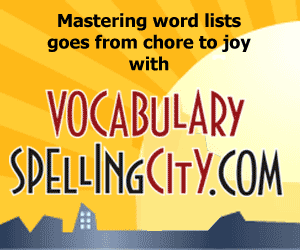 VocabularySpellingCity offers 14 free spelling games that can be completely customized to use with your students' spelling lists. You can enter your own lists or use those you find on the site. You may find your spelling series' lists under the Forums section. You may want to use one of their precreated lists that is located under the Teacher Resources section. Here, you will find lists for such things as math and science vocabulary, Dolch sight words, compound words, and multiple meaning words. If you still don't find what you need, look under the Find a List section and search by teacher or list name. Once you have imported the lists into your account, your students can play the free games to study for their spelling tests (which you can give online through the site!). The games work perfectly on your interactive whiteboard. Many of the games can be printed to create customized worksheets. The handwriting printables are great!
There is a premium version that costs $49.95 for a year for a group of 30 students. Your premium membership will open up even more games, vocabulary practice, and record keeping.
I strongly urge you to try VocabularySpellingCity. My students and I love it!