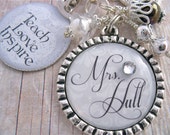 Recently, I won a blog giveaway from Inspired Teacher. My prize was a personalized bottle cap bead necklace from the teacher collection of My Blue Snowflake.
I received my prize yesterday, and I must admit that I am more than pleased. The necklace is beautiful. The bottle cap (which isn't actually a bottle cap) and beads were far better quality than I expected. The creator, Jamila, was more than willing to accommodate my selection with colors, personalization, beads, etc. She wanted to make sure it was exactly what I wanted.
They have a huge selection of personalized charms. Aside from teacher charms, there are wedding designs, sports themes, and family choices. You can choose keyrings, badge reels, necklaces, and bracelets all at very, very reasonable prices. I urge you to take a look at My Blue Snowflake. You will certainly find some great gifts and something for yourself!
Pin It